Al‑Anon Family Groups, which includes Alateen and Al‑Anon Adult Children, has been in existence for 65 years as a community resource providing support to those affected by someone else's drinking.
Today, there are more than 25,000 Al‑Anon and 1,700 Alateen groups meeting in 133 countries. There are more than 280 Al‑Anon and Alateen meetings in the Minneapolis and St.Paul metropolitan area.  Meetings are anonymous and confidential. There are no dues or fees for membership.
Find out if Al‑Anon, Alateen, or Al‑Anon Adult Children might be right for you.  Learn about alcoholism as a family disease and its effect on us.
Help and Hope
The Al‑Anon Family Groups are a fellowship of relatives and friends of alcoholics who share their experience, strength, and hope, in order to solve their common problems. We believe alcoholism is a family illness, and that changed attitudes can aid recovery.
Al‑Anon is not allied with any sect, denomination, political entity, organization, or institution; does not engage in any controversy, neither endorses nor opposes any cause. There are no dues for membership. Al‑Anon is self-supporting through its own voluntary contributions.
Al‑Anon has but one purpose: to help families of alcoholics. We do this by practicing the Twelve Steps, by welcoming and giving comfort to families of alcoholics, and by giving understanding and encouragement to the alcoholic.
Al‑Anon's Suggested Preamble to The Twelve Steps
Reprinted with permission of Al‑Anon Family Group Headquarters, Virginia Beach, VA.
Minnesota South Area Calendar
Every year Minnesota South Area produces a calendar with the dates of Al‑Anon and Alateen events.  The 2020 calendar is now out and has been mailed to all Minnesota South Al‑Anon and Alateen groups.   Additional free copies are available at Minneapolis Al‑Anon/Alateen Information Services and St. Paul Al-Anon/Alateen Intergroup.
You can download a printable copy (PDF) or view the calendar online.
Have you seen Al-Anon's newest book?
Intimacy in Alcoholic Relationships
Members share their challenges with all aspects of intimacy – physical, emotional and spiritual – in all relationships affected by the family illness of alcoholism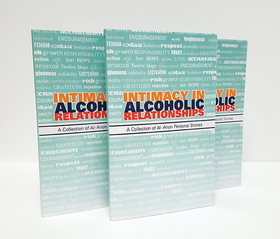 Available at Minneapolis AIS and St. Paul Al-Anon/Alateen Intergroup
See the literature page for information on other books